---
Diagnostic bioinformatics
at OUS AMG
Oslo University Hospital (OUS) annually performs 1.2 million patient treatments and has extensive national responsibilities in clinical medicine, research and development. The Department of Medical Genetics (AMG) at OUS is the largest in Norway, and both diagnoses and researches the causes of inheritable diseases.
Who we are
The diagnostic bioinformatics group at OUS AMG has built a strong reputation in just a few years. Our members have extensive experience and varied background ranging from software development in various industries to more specialised bioinformatics in a research setting. We collaborate closely with people from a wide range of other disciplines within the department as well as academic, institutional and commercial partners.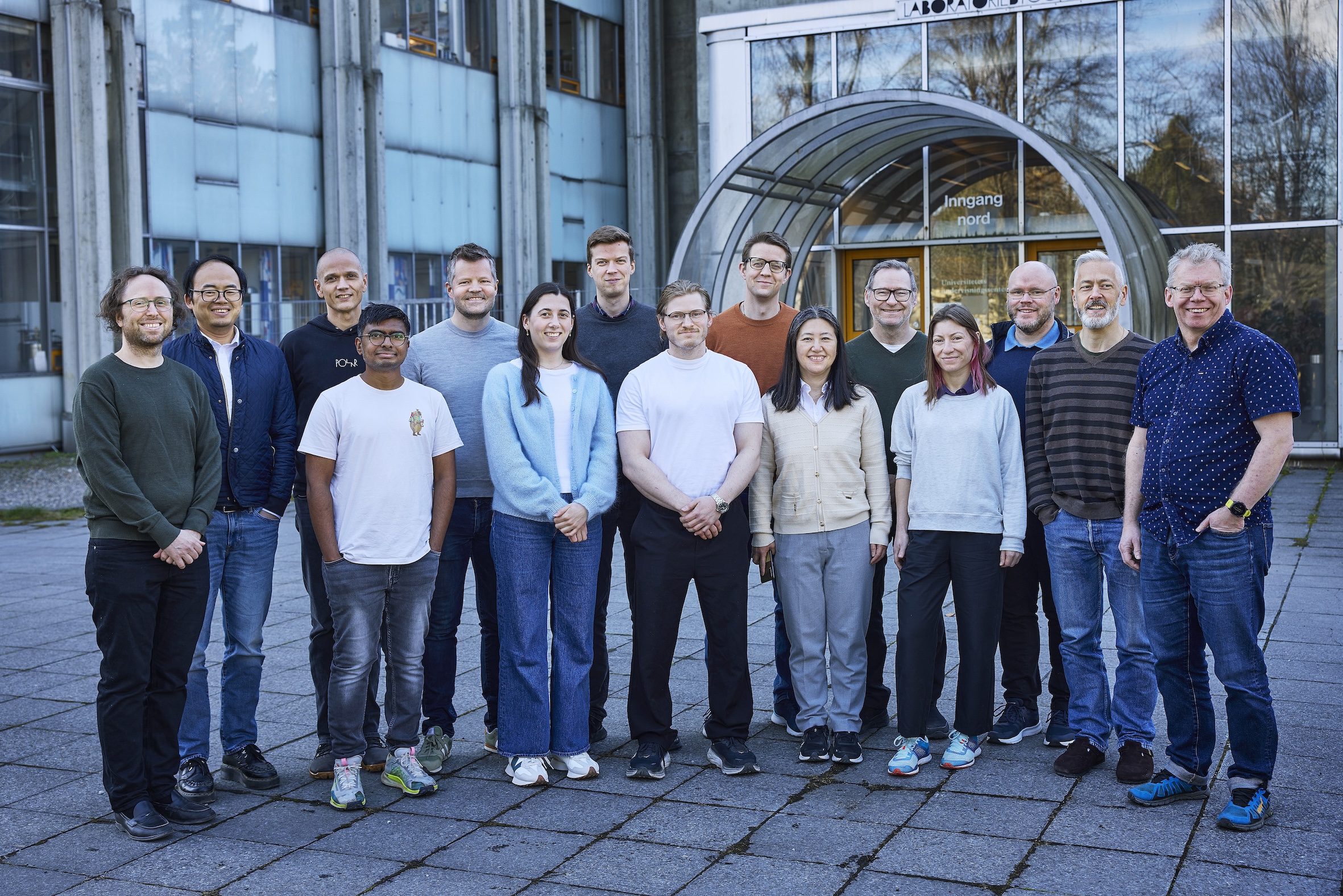 The diagnostic bioinformatics group at OUS AMG.
What we do
High-throughput sequencing (HTS) allows for fast and cost-efficient characterisation of DNA, and the technology is developing at a break-neck pace: Today's sequencing instruments can sequence several full human genomes in a single run, which was unimaginable only a few years back. However, a lot of data is produced (1.5 TB per instrument run) that require extensive post-processing to arrive at a good description of genetic variants in the DNA and their clinical significance.
Diagnostic activities
OUS AMG is among the few laboratories in Norway accredited for the use of HTS for medical diagnostics. The department currently has a range of Illumina sequencing instruments on site: Two NovaSeqs, two NextSeqs and three MiSeqs. Several exome-/genome-based panel tests are currently on offer in diagnostics, as well as targeted tests for hereditary cancer and cardiomyopathy. The diagnostic repertoire also includes non-invasive prenatal testing (NIPT). Preimplantation genetic testing (PGT) is under development.
Our group develops and runs the computational analyses that enable efficient interpretation of a patient's genetic variants. We continuously strive for increased automation and scaling for the rapidly expanding uses of HTS in healthcare, while maintaining the quality necessary for clinical use and a high level of diagnostic sensitivity.
R&D activities
In parallel with the core diagnostic activities, our team is also heavily involved in the research group Digital Solutions for Genomic Medicine (Digigen), and associated, externally funded research and innovation projects.
A key project has been development of the comprehensive, open source decision support software ELLA for genetic variant interpretation, a critical bottleneck in the diagnostic process; another notable project involve the personalisation of drug treatments using pharmacogenomics.
Currently, we are working hard on expanding the diagnostic offering and capabilities of ELLA as well as using structured phenotypes for better targeting of our tests.
Collaboration
Our group is closely situated with the lab, genetic interpreters, medical doctors and researchers at the department, and user involvement is a central tenet of our work. In addition, we work closely with academic, institutional and commercial partners, and OUS AMG is part of several large collaboration efforts:
A key goal of these efforts is to develop and deploy databases, services and tools for secure and efficient data sharing, such as the GA4GH Matchmaker Exchange.
Future visions
Looking ahead, variant interpretation is expected to become increasingly data-driven. This will require the development of a federated software infrastructure where trustworthy data can be shared securely across labs and organisations. We envision that the increased complexity of variant interpretation, where different types of data will be integrated at large scale, will require even more automation and use of machine learning to evaluate and prioritise variants in the context of the patient's dynamic phenotype, available knowledge and reference data. Our group is well positioned to take a leading role in this work.
Software we make
Our group develops and maintains a number of bioinformatics software tools and services. We are commited to our work being open-source and freely available in order to further public health in Norway and beyond. Some of our projects include:
ELLA, an analysis tool for clinical interpretation of genetic variants.
Genepanel Builder, a tool for creating and managing gene panels used for filtering genetic variants.
ped suite, a collection of packages for pedigree analysis.
Want to work with us?
The field of clinical genomics is front and centre on the path to truly personalised medicine. We are looking for self-going, knowledge-hungry and versatile individuals that are motivated by and able to handle challenging tasks in a fast-developing field of health care.
Please contact group coordinator Tony Håndstad (+47 90609379 or e-mail) for any inquiries.
Last modified: 05.09.2022
---
Diagnostic bioinformatics group | Department of Medical Genetics | Oslo University Hospital | Norway